New BYD ATTO 3 scores five-star rating in Euro NCAP safety tests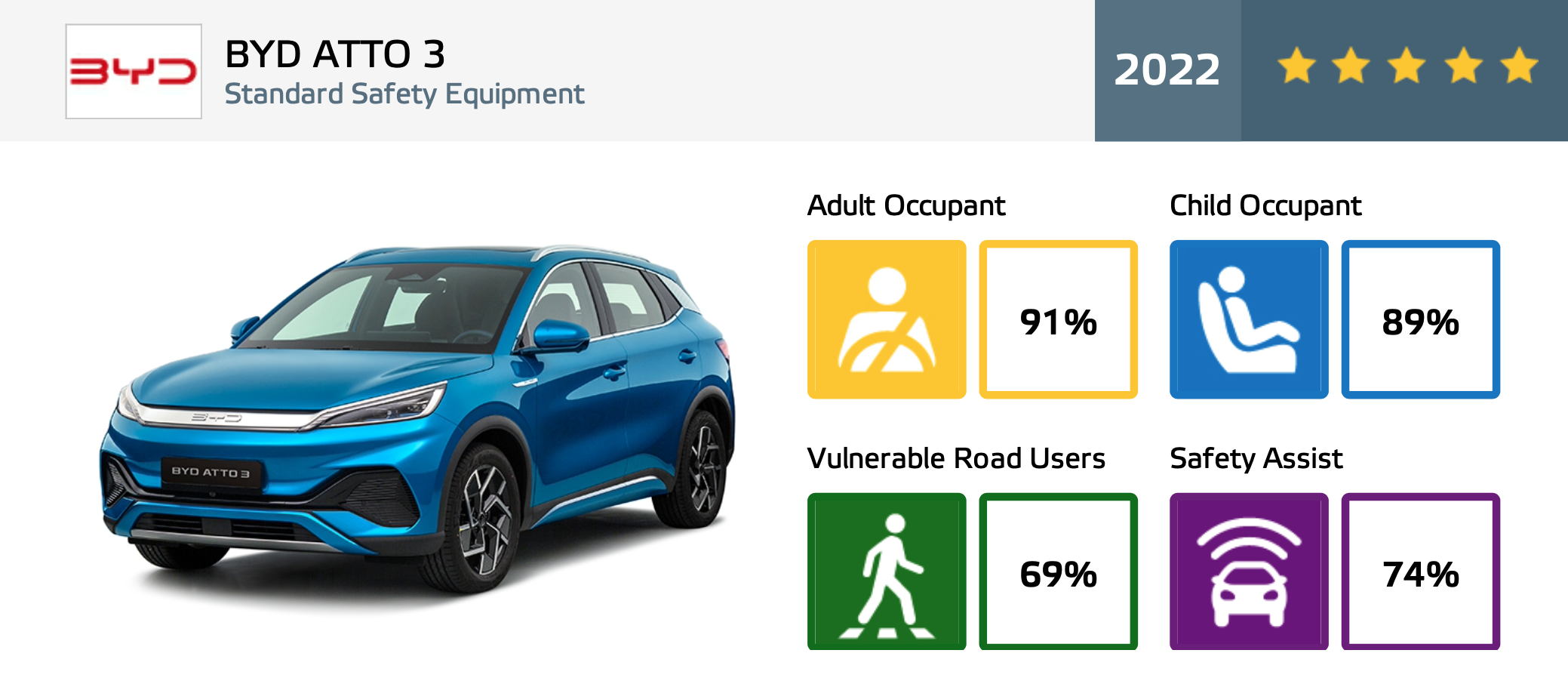 Safety BYD's new C-SUV awarded by BYD's new 'ultra-light and ultra-intelligent e-Platform 3.0
Excellent results include scores of 91% for adult occupant protection and 89 % for child occupant protection
New model benefits from the ultimate in system efficiency and integrated vehicle intelligence
Zaventem, Belgium – The all-new full-electric BYD ATTO 3 has been awarded the maximum five-star safety rating by Euro NCAP, Europe's leading independent safety assessment programme. The ATTO 3 performed to a high standard throughout the test process, illustrating the vehicle's exceptional active and passive safety credentials.
BYD ATTO 3 is the first passenger car vehicle from the world's leading manufacturer of new energy vehicles that is tested by the independent safety organisation Euro NCAP. BYD will launch 3 full-electric vehicles at the Paris Motor Show in October. Besides BYD ATTO 3 these vehicles are: BYD TANG, a 7-seater electric SUV and BYD HAN, a sleek and sporty electric sedan.
Michael Shu, BYD Europe's Managing Director, said: "The new BYD ATTO 3 is a very safe car. With a five-star Euro NCAP rating, new BYD ATTO 3 customers can be assured that its robust structure and modern assistive technologies will maximise the safety of occupants and other road users at all times."
Impressive scores in four categories
The BYD ATTO 3 was by assessed by Euro NCAP engineers in four categories: adult occupant protection, child occupant protection, safety assistance, and protection for vulnerable road users. For adult occupant protection the ATTO 3 scored an impressive 91 %, with Euro NCAP praising in particular how the passenger compartment remained stable in the frontal offset test. In the child occupant protection tests, the ATTO 3 achieved 89 %, minimising impact on all critical body areas for both the six- and ten-year-old representative dummies.
BYD ATTO 3 safety assist systems achieved a score of 74 %, with Euro NCAP highlighting the performance of ATTO 3 camera-based Intelligent Speed Limit Assist and Lane Keeping Assist systems. The vehicle's autonomous emergency braking system (AEB) contributed to a vulnerable road user score of 69 %, with testers giving specific mention to the system's recognition of pedestrians and cyclists.
Safety & Driving Assistance
Key to the test result was the BYD ATTO 3 new 'ultra-light and ultra-intelligent e-Platform 3.0, which features a 'multi-load path' structure which controls how energy is absorbed by the car in the event of a collision, minimising intrusion into the passenger cabin. Passenger protection is further enhanced with a new reinforced, lightweight body structure with high torsional rigidity.
There is an abundance of safety and advanced driver assistance features as standard equipment in the ATTO 3. All models feature Forward Collision Warning, Automatic Emergency Braking, Rear Collision Warning, Rear Cross Traffic Alert and Rear Cross Traffic Brake, Lane Keep Assistance, Lane Change Assist, and Emergency Lane Keep. ​
In addition, further driver aids include Blind Spot Detection System, ESP, Traction Control, Hill Decent Control, Automatic Vehicle Hold, Intelligent Speed Limit Information, and Intelligent Speed Limit Control. ​ Comfort is assisted by Adaptive Cruise Control and Intelligent Cruise Control. ​ The panoramic camera provides 360-degree visibility for the driver for safe manoeuvring of the vehicle.
Cutting edge lighting technology also provides a wider beam of light to assist visibility when driving at night, with High Beam Assist, Adaptive Front Headlights and Follow Me Home as standard.
BYD ATTO 3 test results.pdf
PDF - 5.9 Mb
Download
---
About BYD
BYD is a multinational high-tech company devoted to leveraging technological innovations for a better life. Founded in 1995 as a rechargeable battery maker, BYD now boasts a diverse business scope covering automobiles, rail transit, new energy, and electronics, with over 30 industrial parks in China, the United States, Canada, Japan, Brazil, Hungary, and India. From energy generation and storage to its applications, BYD is dedicated to providing zero-emission energy solutions that reduce global reliance on fossil fuels. Its new energy vehicle footprint now covers 6 continents, over 70 countries and regions, and more than 400 cities. Listed in both Hong Kong and Shenzhen Stock Exchanges, the company is known to be a Fortune Global 500 enterprise that furnishes innovations in pursuit of a greener world.
About BYD Auto
Founded in 2003, BYD Auto is the automotive subsidiary of BYD, a multinational high-tech company devoted to leveraging technological innovations for a better life. Aiming to accelerate the green transition of the global transportation sector, BYD Auto focuses on developing pure electric and plug-in hybrid vehicles. The company has mastered the core technologies of the entire industrial chain of new energy vehicles, such as batteries, electric motors, electronic controllers, and automotive-grade semiconductors. It has witnessed in recent years significant technological advancements, including the Blade Battery, the DM-i and DM-p hybrid technology, the e-Platform 3.0, and the CTB technology. The company is the world's first carmaker to stop the production of fossil-fueled vehicles on EV shift and has remained top of new energy passenger vehicle sales in China for 9 years in a row.
---
ENQUIRIES
Inchcape plc BeLux